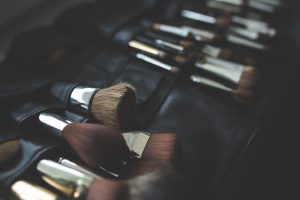 The well-made brush is a base for the perfect make-up. Professional make-up artists confirm that the most important thing in their work is the tools they use. What are the best make-up brushes? Collect your set.
Good make-up brush must be made with the best quality materials which work well with the skin and make-up cosmetics. If eye shadows flick of the brush or on the contrary, is embedded too deep in it and application on the skin is inconvenient, then it is not a good make-up brush.
However, no one said that good make-up brush must be expensive. Not always the expensive propositions have the highest quality. We often pay for the logo or appearance. Below sets are propositions of well-designed brushes which are great in make-up and are easy on your budget.
HERE ARE THE MOST POPULAR MAKE-UP BRUSHES:
e.l.f Powder Brush — powder, blusher, bronzer
Powder brush made with antibacterial, synthetic Taklon (modified polyester fibre). Both bristle and the grip are entirely black. Thanks to the materials used, the brush is hypo-allergenic. Its density and proper cut make e.l.f Powder Brush an ideal tool for blusher and bronzer and powder finish for every make-up.
Real Techniques Powder Brush — powder, blusher, bronzer
Another proposition made with Taklon, i.e. synthetic bristle which in this situation has two colours and rounded bristle. The solid grip of Real Techniques Powder Brush makes holding it real easy, while soft, fluffy and elastic bristle provides light and medium coverage. It is the perfect brush for powder, blusher or bronzer because it blends well and gives a natural effect. Softly coats face and the work with it is pure pleasure.
EcoTools Mattifying Finish Brush — powder brush
Lighter, more ecological version of a standard powder brush. The grip made with light wood perfectly works with the light synthetic bristle and decorations in colour of sky blue. EcoTools Mattifying Finish Brush is a great proposition for people who only start their adventure with make-up. It ensures a smooth finish and has an additional advantage – increases matte skin effect.
Kashuk Tools Domed Multi-Purpose Brush — multi-purpose brush
It looks inconspicuously but is a good friend for every woman. Why? Because it is suitable for use with many products, like, eye shadow, blusher, concealer, etc. Even though, according to the popular opinion, it is best with a highlighter. Kashuk Tools Domed Multi-Purpose Brush has light, short and rounded bristle and black grip.
Pixie Cosmetics Flat Top Buffing Brush — foundation brush
The best bristle for foundation turns out to be made with nylon which is easy to clean and does not absorb cosmetics. The Pixie Flat Top Buffing Brush is suitable for sensitive skin because causes no irritations. It perfectly spreads foundation with various texture (gel, liquid, mineral) without smudges. The effect achieved with this brush is very natural.