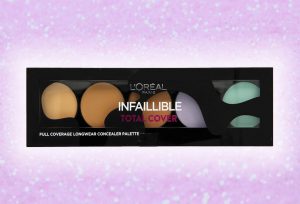 Concealer Palettes is the latest trend and is definitely more practical than singular concealers in tubes or pencils. Another example of well-designed cosmetic is L'Oreal Infallible Total Cover — concealers in 5 shades for even more thorough and flawless make-up.
Until recently, colourful concealers were reserved for professionals. Only make-up artists knew the beneficial power of green or violet when it comes to camouflaging pigmentations, dark circles or redness. Today, concealing your skin with various concealers is more and more popular. In spite of it, not many cosmetic brands have in its offer colourful concealers. It is the perfect timing for the release of such product by L'Oreal.
L'Oreal Infallible Total Cover Full Coverage Longwear Concealer Palette is a name of 5 concealer palette intended for camouflage of imperfections visible on the skin.
Minimises discolourations.
eliminates dark circles under eyes.
Makes minor wrinkles less noticeable.
Camouflages redness and spider veins.
How does it work?
L'Oreal Infallible Total Cover is 5 creamy concealers for professional make-up, that can correct skin imperfections. Thanks to it make-up is flawless. Five concealers provide high level of coverage and no mask effect or weighing down. It has long-lasting durability, there is no wearing down and no need for fixing during the day. Concealers can perfectly blend with skin and cooperate with foundations of any texture.
5 concealers in one palette
L'Oreal Infallible Total Cover is a creamy concealers' palette that allows you to correct all beauty flaws. It is all thanks to 5 special shades:
GREEN and YELLOW for redness,
ORANGE for dark circles around the eyes,
VIOLET for highlight,
NUDE for discolourations.