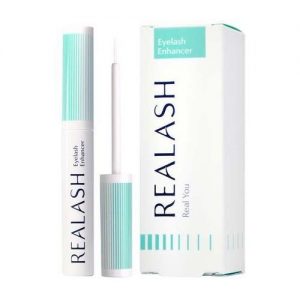 It slightly resembles a pharmaceutical and doesn't look tasteful. Realash Serum is a formula that combines natural plant extracts with lab-devised ingredients. It's effective yet doesn't stand out. Read on to see how Realash Enhancer works.
Capacity: 3 ml
Formula. What does it contain?
Realash Enhancer brags about being dermatologically and ophthalmologically tested. The product must have been tested because it contains active nanopeptides and amino acid molecules which may be dangerous in wrong concentrations. They've been enriched with plant extracts e.g. calamus, marigold, linseed. So, Realash Enhancer has an interesting composition which combines natural ingredients with advanced substances.
Realash Ingredients (INCI): Aqua, Propanediol, Panthenol, Glycerin, Biotinoyl Tripeptide-1, Acorus Calamus Root Extract, Acrylates/C10-30 Alkyl Acrylate Crosspolymer, Calendula Officinalis Flower Extract, Dechloro Dihydroxy Difluoro Ethylcloprostenolamide (Ethyl Tafluprostamide), Disodium EDTA, Ethylhexylglycerin, Equisetum Arvense Leaf Extract, Hydrolyzed Silk, Linum Usitatissimum Seed Extract, Phenoxyethanol, Propylene Glycol, Serenoa Serrulata Fruit Extract, Sodium Hyaluronate, Sodium Hydroxide.
Too bad, the components aren't all-natural.
Action. What effects does it deliver?
The brand boasts about good results and lots of positive reviews. Realash Serum is effective. Most women spot a general improvement in the lash condition and fewer falling out lashes. Used regularly, the product reinforces from the roots to the tips. Still, it doesn't give as spectacular effects as you might expect for such a price. First results are supposed to appear after two weeks but in reality Realash slightly boosts growth a few weeks later.
Design. What does it look like?
Many opinions and reviews compare this product to medication and other chemist's products. It isn't surprising because Realash stands out with its white and mint design. The plastic tube is small and quite handy. There are mint stripes on the cap and a navy-blue logo. It's not so much a luxury product that I'd like to put on the dressing table. The effectiveness doesn't go hand in hand with a design which isn't fancy and eye-catching.
Application. How to use?
Another product with the same directions for use. A thin brush – made for the application – is a standard solution. Realash Serum must be applied every evening to the clean lashes. Leaving the skin dirty makes the product work less effectively because it's harder to penetrate the skin deeply. You apply the serum to the upper eyelids with one sweep of the brush. Realash Enhancer is quite fluid so you must be careful during and after the application (until it's absorbed).