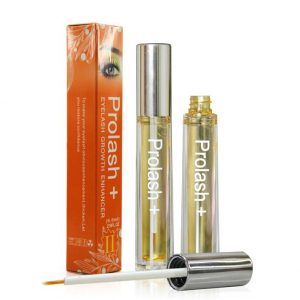 Prolash Serum is a full set of natural plant and animal-derived ingredients which nourish and strengthen the lashes. One serum in two versions: an orange and bigger one or a blue and smaller one. It's available online at a low price which corresponds to the effects. Check how Prolash is different from other serums.
Capacity: 5 ml/ 6.5 ml
Formula. What does it contain?
Prolash+ Serum is based on natural active ingredients which have a positive influence on the lash condition. Among others, there is hyaluronic acid, a full set of vitamins, keratin, collagen, omega-6 fatty acids and lots of plant extracts. A mysterious EPM enzyme is responsible for the stimulating action. Sadly, the rich composition doesn't equal amazing results. The effectiveness depends on the quality and proportion of active substances and it's not impressive in the product. To make things worse, the serum includes some animal-derived ingredients.
Action. What effects does it deliver?
The manufacturer promises spectacular effects. Prolash+ Eyelash Growth Serum really nourishes from the roots to the ends for stronger lashes. Too many lashes falling out won't be your problem anymore. The Serum is supposed to deliver length and volume but this effect isn't confirmed in women's reviews. Prolash slightly extends the eyelashes but it doesn't enhance their density much. First effects of nourishing are to be seen after just 7-14 days of systematic use.
You need much more time for stimulating the growth.
Design. What does it look like?
Let's be honest – Prolash+ has a unique design. It comes in two versions – their color and size depend on the capacity. The smaller version – 5 ml – comes in a blue and straight bottle; it's decorated with white writings and doesn't stand out among other products. On the other hand, the bigger version of Prolash+ – 6.5 ml – is housed in a characteristic, orange cardboard box with a colorless bottle inside. You can see clearly how much is left.
Application. How to use?
Prolash+ is the only serum that must be applied at least twice a day – in the morning and evening. The label says that applying Prolash+ 2-3 times a day is optimal. Eye makeup removal and cleaning the face are a must before using the cosmetic. Next, you use an eyeliner brush to cover the upper and lower lash line with the serum. You can't wear contact lenses during the application. Systematic use is a must if you want any effects.