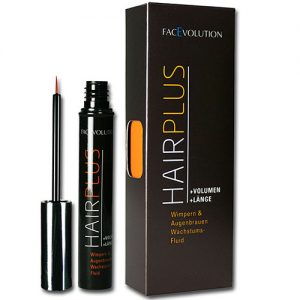 After making the design over, Hairplus Serum looks quite tasteful. It has one of the biggest products when it comes to the capacity. It strengthens and nourishes the eyelashes thanks to a complex of biopeptides, vitamins and plant extracts. Check the opinions about Hairplus Eyelash Serum.
Capacity: 3 ml/ 4.5 ml
Formula. What does it contain?
Facevolution Hairplus is a growth-boosting serum which includes panthenol, a complex of valuable vitamins, ginseng extract and additional flower and fruit extracts. It improves the eyelash condition thanks to active amino acids with peptide bonds – so-called biopeptides. The ingredients are mild and good for the sensitive eye area. Rejuvenating biopeptides are responsible for the lash growth yet not too strong. Surely, they don't work as intensively as you might expect.
Action. What effects does it deliver?
Facevolution presents a product which stimulates lash growth in a gentle way. That's why Hairplus is effective but it doesn't give spectacular results. Theoretically, lashes are to be 40-45% longer and much fuller. In practice, you shouldn't expect such effects. Hairplus Serum really makes bulbs stronger, nourishes them and eliminates the problem of excessive falling out. During the treatment, you lose a normal number of lashes. First effects are to come after 4-8 weeks whereas the whole treatment lasts even 9 months.
Design. What does it look like?
The design of Hairplus Serum has been slightly changed. The packaging is modern and simple. The logo is the same. The colors are still black and intense orange and white. The golden cap has been replaced with a tasteful, silver one. The cardboard box got a new design, too. It's impossible to confuse it with a different product.
No changes in the material; Hairplus Serum is housed in plastic bottles.
Application. How to use?
When it comes to the application, Hairplus doesn't offer any revolutionary solutions. It has a regular, brush applicator and it's easy to use. You must apply the cosmetic daily. First, you need to precisely clean and degrease the eye area. Hairplus is so mild that even tiny impurities might weaken the effects. The serum is applied to the lash line only, preferably in the evening before going to sleep.