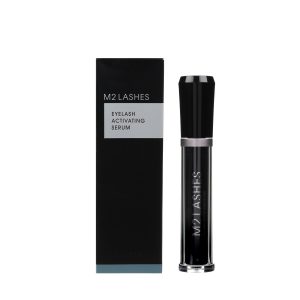 It looks like a mascara which has an intensely black shade. In reality, M2 Lashes Serum is another popular product for eyelash growth and care. It contains a mysterious MDN and hyaluronic acid. Check if the ingredients make M2 Lashes an effective product.
Capacity: 5 ml
Formula. What does it contain?
Most lash growth products contain advanced active ingredients. It's the same here. M2 Lashes Serum is based on a stimulating substance – known as MDN – that's used in medicine. It's enriched with hyaluronic acid, biotin (vitamin B7) and humectants based on animal-derived sugars. The product's missing plant extracts, nourishing oils and at least one natural substance. This speaks for itself and makes it easier to estimate the composition of M2 Lashes Serum.
Action. What effects does it deliver?
Mild active ingredients make the lash base stronger. M2 Lashes Serum is a lash care product which gives a healthy shine and elasticity. The eyelashes are supposed to be longer, thicker and fuller after just a few uses. In reality, M2 Lashes is going to bring effects after 6-8 weeks yet the maximum results come after several months. The effect isn't spectacular but the product is effective.
It makes lashes stronger and prevents them from falling out.
Design. What does it look like?
M2 Lashes Serum attracts attention with its design. It's mostly the bottle what makes the product different from classic serums. The enhancer has a mascara tube but it has a different applicator. The glass, clear bottle reveals the black inside of the tube. The combination of black, silver and glass is really elegant. The cap is a bit wider so the tube is handy and you don't need to worry about dropping it. M2 Beauté Lashes Serum is a very tasteful and nice product.
Application. How to use?
No surprises when it comes to the application of M2 Lashes. According to the directions for use, M2 Serum should be applied once a day. It's best to do it in the evening because you must precisely purify and dry the skin before the application. Then, you can pick the serum up and apply it to the upper eyelids to the lash base. M2 Lashes absorbs after a few seconds. You must be careful so that the serum doesn't get inside the eyes during or after the application.