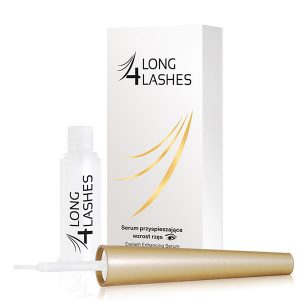 Popular Long4Lashes is a growth-stimulating serum, based on pure bimatoprost and enriched with a few extra nutrients. The product is available in one capacity, at an affordable price which is adequate to the effectiveness. Check why Long4Lashes takes this very position in the reviews.
Capacity: 3ml
Formula. What does it contain?
On the official website, you can read that Long4Lashes Serum owes its effectiveness to one active ingredient – pure bimatoprost. Its cosmetic use arouses lots of controversies. Eyelash serums containing the tested bimatoprost derivative (delivering the same effects) are much better. Apart from bimatoprost, Long4Lashes includes panthenol, hyaluronic acid and allantoin. This composition intensifies the effects but it doesn't make Long4Lashes Serum a strong competitor for the top-rated products.
Action. What effects does it deliver?
The product improves the general condition and appearance of eyelashes. Long4Lashes Serum brings first effects of nourishing after three weeks. It truly strengthens the eyelashes and keeps them from falling out. Used systematically, it aims at lengthening, thickening, boosting volume, adding elasticity and shine. Reviews show that L4L is among the most effective eyelash serums yet it doesn't ensure comprehensive effects. They're not as spectacular as one may expect.
Still, Long4Lashes Serum works, that's for sure.
Design. What does it look like?
Long4Lashes Eyelash Enhancing Serum comes in a characteristic, white and gold, plastic bottle. The darker cap with a brush is narrowed at the tip and this is what makes L4L different from serums in straight tubes. The bottle and box are decorated with the minimalist logo. The serum won't go unnoticed. The product is available online and at some drugstores.
Application. How to use?
The cosmetic comes with a handy applicator – a thin brush which allows for a one-sweep application. The serum is applied to the upper lash line. You mustn't apply Long4Lashes to the lower lash line or inside the eyes. The manufacturer suggests using the product once a day, preferably before sleep. It's important that the skin is clean and dry before the application.