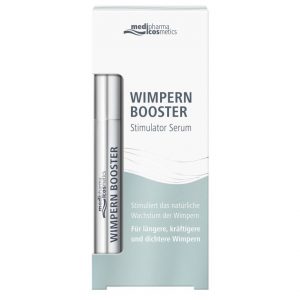 Nearly three milliliters of serum is housed in a regular, silver tube. Wimpern Booster has an interesting formula but the design isn't extraordinary. It effectively conditions and strengthens the lashes, and ensures the hydration thanks to hyaluronic acid. Check other ingredients of Wimpern Booster.
Capacity: 2.7 ml
Formula. What does it contain?
The secret of Medipharma Cosmetics Serum is a modern combination of active ingredients with caffeine, hyaluronic acid and panthenol (pro-vitamin B5). Wimpern Booster is free of parabens, silicones, preservatives and other damaging substances. Comparing the ingredients of Wimpern Booster and the components of other lash serums, you see that the brand didn't come up with anything surprising. The active, growth-stimulating substance is the same as in other serums.
Hyaluronic acid isn't innovative either.
Action. What effects does it deliver?
Wimpern Booster is supposed to stimulate faster eyelash growth and increase volume after just 2 weeks. The condition of lashes gets better and the bulbs are nourished and stronger but the effects aren't visible to the naked eye. Two weeks is the time needed for the growth phase to extend so definitely more time is necessary for you to see longer and thicker lashes. Wimpern Booster brings effects but it takes time to see them. Results are visible yet not stunning; the serum works gently.
Design. What does it look like?
At first sight, it's hard to tell if this is Wimpern Booster or some other lash serum. Its packaging looks like the ones of hundreds of similar products which have been launched recently. Silver color and shades of sky blue don't make up an original design. Nevertheless the metallic tube looks very good, tasteful and quite simple. Wimpern Booster is handy and small – easily fits in every beauty case.
Application. How to use?
An animation on the official website shows perfectly how to use Wimpern Booster. One coat of the clear serum is applied with a quick stroke to the upper lash line (when eyes are closed). It works best when you apply it daily before going to sleep. Wimpern Booster must be applied to clean and dry skin of eyelids. You can apply next cosmetics after 2-3 minutes.