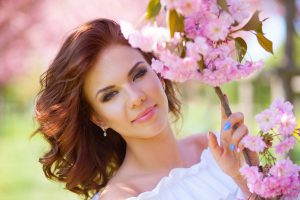 Our gentle skin needs entirely different care in the summer. You should use light creams and foundations. What should you do when even light make-up cosmetics run down the face in the hot summer days? The solution is waterproof cosmetics.
You have no idea how to perform summer make-up that would last the entire day? The method for it is simple, try waterproof cosmetics. These work because their composition is different from those made with traditional formula.
Regular cosmetics base is water or hydrolates. Waterproof cosmetics last longer on the face because water is replaced with special polymers, silicone or resin. To present it in the example, waterproof mascara has no water whatsoever, so to ensure it with the creamy formula is used oil based liquid or special resin solution.
WaterPROOF and water RESISTANT make-up
Not many women know that there are two types of cosmetics with increased resistance to wearing down. The difference is easiest to observe in the names of them. It is best to discuss it based on the mascara example:
waterproof mascara,
water-resistant mascara.
What gives you the information that your mascara is waterproof or water resistant? The difference between these two cosmetics is significant and is based on how long-lasting these are. The waterproof cosmetics will survive rain, snow or tears. However, these will certainly smudge when you will swim in the sea or a pool. On the other hand, water-resistant cosmetics are much more durable and will not smudge even when scuba diving.
How to remove waterproof make-up?
You have to remember that removal of waterproof mascara is much more time-consuming than with the standard make-up. It also requires a different type of products. The best, in this case, are cleansing milk or bi-phased make-up removers that contain moisturising for skin oils. These will get rid of heavy and resistant to water make-up and will take care of your skin.