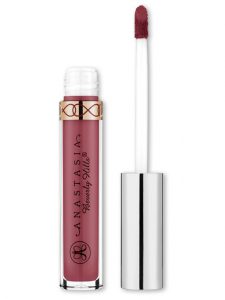 Apparently, it does not fear summer heat, full meal or drinks. It will survive every kiss, gym training and all night party. What is this marvel? It is Liquid Lipstick by Anastasia Beverly Hills. Check out whether all the women are right to praise the durability of this cosmetic.
Did you know that the matte lipstick by Anastasia Beverly Hills is available in 35 shades? You can choose out of red, pink, violet, brown, even blue and green. However, this is not all when it comes to surprises about this product. The greatest thing about Liquid Lipstick Anastasia Beverly Hills is how long-lasting it is. According to the girls who tried it, it lasts on lips the entire day. No matter drinking, eating, talking or exercising. This cosmetic is also resistant to various environmental conditions, but also sweat and water.
Anastasia Beverly Hills guarantees more than just the durability of their products, but also incredible properties. The lipsticks are highly pigmented, so they provide lips with beautiful appearance and perfectly complement the entire make-up. The brand offers shades that go well with daytime make-up and the party make-up. Some cosmetics contain shimmering particles. However, the majority of lipsticks ensure the matte finish. Nonetheless, if you care about the shimmering effect, you can apply some lip gloss on the Liquid Lipstick. Remember that the durability of the Anastasia Beverly Hills can then depend on how long the lip gloss will last.
The application of this lipstick is pure pleasure.
Thanks to the sponge shaped to match lips, the make-up is performed within few seconds. The small bottle holds 3,1 g of cosmetic. Small size allows you to take it everywhere you go, to work, to school or on the summer trip. The upper part is always decorated with a pattern on the gold strip.
Make-up with lipstick like this just cannot go wrong!