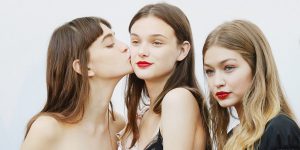 Spring-Summer season in make-up introduces itself as a true treat. Violet, pink, gold and the perfect face. Read below on how to use make-up cosmetics to look trendy and feel amazing. This look is your must have this season!
EYELIDS AND LIPS COLOURS
This season is about violet, pink, blue and gold. If you're keen on giving it a go, remember that the skin must be perfectly taken care of. Use concealer to camouflage all imperfections and some transparent powder to fix the foundation. Make-up with blue, violet or pink eye shadow is great for a party. Do not use those when you go to work, on a date or to school. Similar goes for the gold. Metallic eyelids or lips draw a lot of attention.
EYELINER
Perfectly straight and made line is long gone. Spring-Summer 2017 we will focus on crooked lines. To do it, you'll require soft pencil which is easy to blend with a brush or finger. Quit eyeliners and other thin pens and cosmetics of gel and liquid consistency. Crooked line perform both on upper and lower eyelashes root line. The best colour for your lines is navy blue.
SMOKY EYES
Never goes out of fashion. It is make-up great for both work and a party. Just add appropriate colours, apply some mascara and complement it with a line along eyelashes root line. Smoky eyes in the Spring-Summer 2017 season is a trend that includes brown, gold and subtle grey. Use all the colours in proper amounts and your make-up will be the top trend.