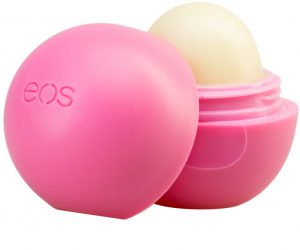 The EOS brand is a well-known manufacturer of body lotions and hand creams, but it gained most popularity thanks to lip balms in the shape of an egg. What is so magical about EOS lip balms? Read the article and see for yourself!
EOS cosmetics
The Evolution of Smooth (EOS) brand was founded in the USA in 2006. EOS produces cosmetics that are completely natural and almost entirely organic. Because they do not contain parabens, phthalates, mineral oils and substances derived from the processing of petroleum, they can be used by people with sensitive skin. The only animal-derived ingredient used in the production of EOS cosmetics is beeswax in the lip balm.
EOS lip balms – composition and properties 
EOS lip balms have a delicious taste and a wonderful aroma that they owe to coconut milk, vanilla, mint, strawberries and blackberries. The fruity scent improves the mood, but the properties of the base ingredients and care additives affect the effectiveness of EOS lip balms. We are talking about coconut oil, avocado and sunflower oil, vitamin E, aloe and oat extract. The oils smooth and moisturize the skin and improve the elasticity of the epidermis, vitamin E accelerates the regeneration of the skin and protects it against the harmful effects of free radicals. Aloe vera provides the skin with hydration, and oat extract strengthens the hydro-lipid layer and seals the epidermis.
EOS lip balms – types 
The EOS lip balm combines an ingenious egg-shaped package and the fact that it is edible. This balm owes those features to a recipe free of allergens, including gluten. Despite many similar aspects, the EOS lip balms can be divided into various types. It is worth distinguishing the EOS Organic and Shimmer lines. The EOS Organic line offers completely organic products that contain fruit extracts, shea butter, coconut oil and sunflower seeds. The EOS Shimmer line, on the other hand, offers lip balms with shimmering particles that subtly reflect the light and, consequently, optically enlarge the lips.