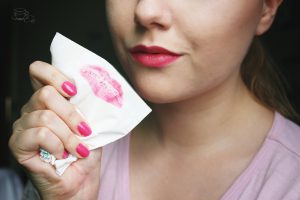 A lip tint is another cosmetic coming straight from South Korea. A lip tint isn't a lipstick or a lip gloss. It is a pigment which leaves lips colored for a few hours. Depending on a color, the tint may either change your lip shade or enhance it. Being kiss-proof is its great benefit. It is so long-wear that you need removers for waterproof makeup to take it off. What are other properties of lip stains and what's characteristic about Sugao Feeling Jelly Lip Tint?
Lip Tint – benefits
A lip tint is a Korean invention so it is mostly offered by Korean cosmetic brands. Companies from other countries and continents follow the example, providing us with a wider choice. Lip tints usually come in three basic colors: pastel pink, cherry and peach. Tints can be applied both to the lips and cheeks for a fresh and youthful look.
How to use a lip tint?
A lip tint is a great product for a go-to look. Just one coat of the cosmetic is enough but you can apply more for a bolder effect and big night outs. Let the tint dry before applying next layers. Because one coat lasts a few hours, several coats give a flawless, all-night-long lip makeup.
What is the characteristic of Sugao Feeling Jelly Lip Tint?
Feeling Jelly Lip Tint is a moisturising water-gel tint by the Japanese Sugao company. Its delicate and pleasant consistency evenly covers the lips giving the effect of a semi-permanent makeup. This innovative formula delivers an even, juicy color of a natural shine. A bit of the tint is enough for an intense color. Feeling Jelly Lip Tint lasts very long on lips. It is rich in a full set of nourishing and hydrating ingredients so it gives skin care, too. The tint-kissed lips look fresh, natural and alluring. Feeling Jelly Lip Tint comes with an applicator which ensures a quick, precise application. The product isn't sticky and doesn't leave lips dry, which is an extra benefit.
Feeling Jelly Lip Tint – colors
Sugao is available in three color versions:
– apricot pink
– juicy red
– sweet pink