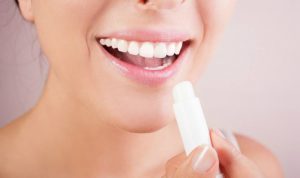 The lips are a very delicate and sensitive part of the face. We cover them with coloured cosmetics every day, but do we remember to protect and take care of them properly? If you do not pay enough attention to the condition of your lips, you should change it right away. Check out how to enhance chapped lips in a simple and effective way.
Drink up!
If your lips are chapped, you probably do not have the right amount of water in your body. The fact that the skin is dry may indicate dehydration, which affects not only the lips, but also the entire body. For the future, remember to regularly eat at least 1.5 litres of still water as well as foods that contain a lot of water and moisturizing ingredients.
Protective balm
It's a must-have for any girl who would like to have beautiful lips. Lip balms protect lips against harsh wind, UV rays, air pollution and other harmful factors. You should always have such a cosmetic with you, and because it is small, it will fit into a purse, pocket or backpack. Keep the lipstick by the bed or on the desk at work. Choose these protective cosmetics that contain natural ingredients, and are colourless and fragrance-free.
DIY Scrub
A sugar scrub with honey is the best way to smooth out chapped lips. Thanks to exfoliation, the blood circulation will improve, the lips will be smooth and elastic, and the cosmetic will deliver many nutrients. It is only important to scrub your lips regularly and apply moisturizing products afterwards.
Lip balm with a scrub
It's the perfect combination of exfoliation and comprehensive care. Such cosmetics contain vegetable oils, butter and cane sugar. You only need to apply lipstick once and your lips will become smooth, moisturized, nourished and protected from the harmful effects of external factors.
DIY Mask 
For lip care, you can choose masks that have recently become very popular, or make such a cosmetic yourself. All you need to do is apply a thicker layer of honey, Vaseline or coconut oil to your lips. After a few minutes, wash it off (or eat it;)), and don't forget to apply a lipstick or moisturizing cream to your lips.