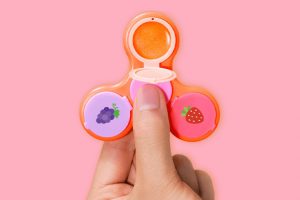 How can cosmetic industry use the most popular toy, Fidget Spinner? It's simple! Just combine it with a lip gloss. The mix of business and pleasure. You can play, take care of the skin or take care of the skin while playing. The decision is yours!
Everyone knows Fidget Spinner!
The Glamspin knows how to attract people who like good fun and who are at the same interested in skin care and make-up. They just released new toy – cosmetic, Fidget Spinner Lip Gloss. The product resembles the well-known Fidget Spinner, i.e. small gadget that improves coordination skills. However, the new toy, instead of the bearing (the round elements) has small lip glosses. All of them locked in small containers.
Cosmetic Fidget Spinner
Fidget Spinner Lip Gloss has three fruity lip glosses. These are Peach Whirl, Strawberry Cyclone and Grape Twist. The cosmetics have beautiful scent and taste. The three lip glosses moisturise, prevent chapped lips and smoother lips surface. The colours are beautiful and the formula is super light so the application is fast and simple. However, Fidget Spinner Lip Gloss is not only the skin care product. You can play with it just like with a classic Fidget Spinner. Spin it between the fingers, flip it from one hand to the other, while it is still spinning, bump it on the leg.
How should you use new lip gloss by The Glamspin?
There is no difficulty in it. The use of lip gloss is as great and simple as playing with the fidget Spinner. Just open one of the containers and apply cosmetic on the lips. You can combine colours and tastes, apply strawberry on the lower lip and the peach on the upper one. Unfortunately, there is one drawback to Fidget Spinner Lip Gloss. You have to apply lip gloss with your finger and because the toy can be taken everywhere (for a walk, to the school, on a holiday), there is no possibility to wash your hand after you use the cosmetic. The bacteria that proliferated on your fingers is then transferred onto your lips. The Fidget Spinner Lip Gloss alone also gathers microbes if it falls on the ground while playing. Should you play with the Fidget Spinner Lip Gloss? The choice is yours.