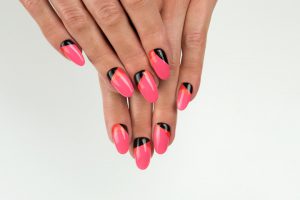 What is the magic to color blocking? Find out how you should combine colours in your manicure for the most effective outcome. Shades that contrast for each other, do not have to look bad. Now is the time when mixing two colours is the top trend and there's method to this madness.
Color blocking is a technique that became fixed term in the dictionary of every fashion designer. Its magic is based on using your favourite colour with a shade that at first may not seem like matching it. The contrast must be noticeable, but to carry on with the technique, it needs courage. Especially when you take this vivid green and fluorescent pink then it may cross your mind that these colours will never get along. Not at all. Such contrast is often the best one.
Color blocking on nails
When it comes to the manicure, color blocking is based on combining two intense colours and geometrical patterns. The hottest trend of the season is a contrast between the summer, fruity colours. Color blocking manicure is perfect to complement your summer stylisations, dresses and fresh make-up.
Here's a handful of most important rules for color blocking manicure:
Bold colours are the key. The summer manicure is about the imagination and not having a problem with wearing really juicy and standing out colours. In color blocking, it is about nail plate to shine with the true fusion of colours.
It is about seeming similarity and real contrast. What is it? It is best to discuss it based on the example. Orange and pink are seemingly alike and yet we rarely put those two together. In fact, these create contrast. The same goes for violet and red, orange and yellow, etc. This is what color blocking is all about.
Geometry and symmetry. Thoughtless application of many colours is a road to nowhere. Color blocking involves contrasting colours combined in form of geometric and symmetric patterns. Being original has to be tasteful.
On your own or in the salon?
Color blocking does not have to be performed by the professional manicurist. Unless you have none skills and you dream about this very complicated pattern. In any other case, you can manage on your own if you only supply yourself with proper nail polish.