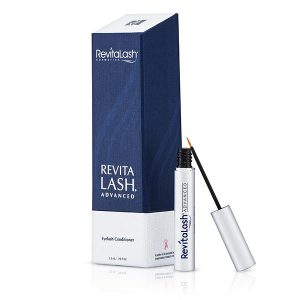 A well-known brand selling lash growth products. Revitalash Conditioner formula is rich in biopeptides. It strengthens, nourishes, regenerates and activates lash bulbs. An advanced formula and brand's popularity. Check why Revitalash isn't on top of the ranking.
Capacity: 1 ml / 2 ml / 3.5 ml
Formula. What does it contain?
Patented BioPeptin Complex technology is responsible for the lash growth stimulating properties of the product. Active nanopeptides are the key ingredients. They can be found in many different products so it's not so innovative. The substances have been enriched with a few antioxidant plant extracts, amino acids and vitamins. Paying such a high price for a few milliliters of a product, one would expect something more innovative and mostly – all-natural.
Revitalash Ingredients (INCI): Aqua, Glycerin, Biotin, Cellulose Gum, Phenoxyethanol, Chlorphenesin, Disodium Phospahte, Phosphoric Ac.,Dechloro Dihydroxy Difluoro Ethylcloprostenolamide (Ethyl Tafluprostamide), Butylene Glycol, Calendula Officinalis Extract, Panax Ginseng Extract, Serenoa Serrulata Extract, Camellia Sinensis Extract, Swertia Japonica Extract, Triticum Vulgare Germ Protein, Pentylene Glycol, Biotinoyl Tripeptide-1, Octapeptide-2.
Action. What effects does it deliver?
Revitalash Advanced Conditioner is designed for stimulating the lash growth. Mostly, the product brings back the health of natural lashes, reinforces and beautifies. With a regular use, they may look better and be shinier. Theoretically, Revitalash is supposed to make lashes longer, thicker and fuller yet the effect isn't guaranteed. Women confirm that their lashes got slightly longer and gently thicker yet just at the roots.
You must wait very long to see such effects, though.
Design. What does it look like?
The craze for simple, silver tubes may have been started by Revitalash Conditioner. The serum's bottle is truly elegant and looks great. Minimalism has its assets because nothing draws your attention away from the logo – the only element on the silver tube. The plastic bottle is of quite good quality. When it comes to the packaging, Revitalash is nice and handy but it's nothing special.
Application. How to use?
The newer version of Revitalash is a thicker formula which doesn't drip into the eyes. That's why the product is safe and you can apply it to the lash base without worrying too much. The brand ensures that Revitalash Conditioner has no impact on the intraocular pressure or the visual acuity. For your safety, Revitalash should be used in very small quantities; applied with one stroke of a thin brush, only once a day.