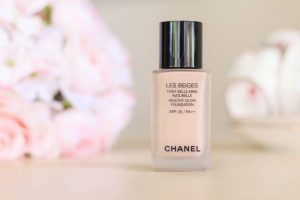 New Les Beiges Health Glow collection by Chanel contains eye shadow, compact foundation, standard foundation, powder, highlighter and a brush. All cosmetics were kept in neutral shades. If you're a fan of natural appearance, you should definitely try it.
Les Beiges Health Glow Natural Eyeshadow Palette
The palette holds five eye shadows in natural colours with light formula and subtle glow. There are two shades of brown, grey, beige and dusky white. The packaging contains a small mirror for when you want to touch-up on the go. The palette was complemented also by two applicators: with a sponge and a brush and a sponge. How to use it for professional make-up effect? The sponge applicator is for application of eye shadow on the entire eyelid. Then with another sponge apply cosmetic along the upper and lower eyelashes root line. On the other hand, the brush is to blend all the eye shadows.
Foundations and powder by Chanel
Les Beiges Health Glow collection has also two foundations and a powder. The compact foundation is available in nine shades of beige and brown. It contains SPF 25/PA++. The packaging contains a mirror and a sponge. The liquid foundation has 14 colours. Contained in it SPF 25/PA++ protects skin against the sun radiation. Similar properties has a powder. Thanks to the SPF 15/PA++ protects skin against UV radiation. It is available in six shades of beige and brown. Foundations and a powder have a delicate texture and easy application. These have high coverage, gently highlight skin, camouflage imperfections and make skin complexion even. Cosmetics consist of natural components which take care of skin, provide hydration and nourishment.
Les Beiges Health Glow Sheer Colour Stick
Chanel highlighter is available in four variants: brown, pink, coral and peach. It contains shimmering particles which ensure skin with youthful appearance and freshness. Thanks to this cosmetic you can contour the face, camouflage its flaws and stress out the advantages. How to use Chanel highlighter? Apply product on the cheekbones and then spread it with your fingers.
Retractable Kabuki Brush
New Chanel collection includes also a brush with soft bristle made of synthetic materials. Retractable Kabuki Brush is intended for application of powder and other loose cosmetics. It should be washed with warm water and soap or disinfecting products on a regular basis.